So the other day I was cleaning out the fridge and realized I had an opened 14oz bottle of beer, a really beautiful Amber.
For whatever reason, I hadn't consumed it and it had gone pretty flat. So I decided to hop on the computer, not wanting to waste the beer, and figure out what I could do with it. Barbeque sauce was among the most popular, but I ended up finding a recipe for Beer Bread.
Always eager to try new things, I decided to give it a whirl. And I am SO glad that I did!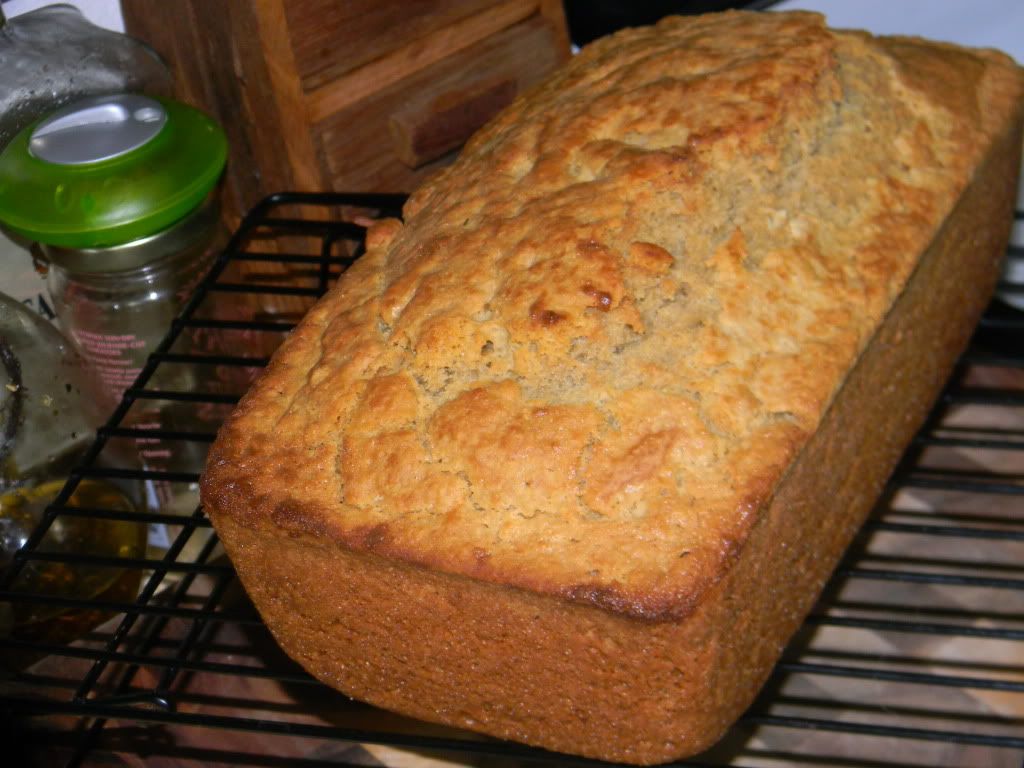 Preheat oven to about 350 degrees, and grease a 9x5x3 pan with butter and a dusting of flour (to keep the bread from sticking and allowing an easy removal.)
Ingredients:
1 1/2 cups whole wheat flour
1 1/2 cups all purpose flour
3 tablespoons dark brown sugar
One 12oz beer (preferably amber. Though I suspect any would do just fine. I'm leaning towards trying a Guinness loaf next)
1 teaspoon baking powder
1 teaspoon salt
1/2 teaspoon baking soda
2 large eggs
4 tablespoons butter, melted
Combine the flour, sugar, salt, baking soda and powder in a large bowl. Whisk to blend dry ingredients together. In another bowl mix the eggs and beer, whisk to combine. Stir in wet mixture to dry mixture until just combined. Pour into your loaf pan, and drizzle melted butter over the top.
Bake for about 40 minutes, or until a toothpick or knife comes out clean.
Let cool for five to ten minutes in the pan and then remove from pan and let cool on a wire rack.
This recipe creates a really dense, yummy bread. My outer shell came out perfectly crusty, and the inside was nice and soft.
I used a few slices for my husband's breakfast that morning. I fried up some over-easy eggs and he used the bread for dipping and holding the egg. The pair together was simply delicious.
It would be great with creamy soups, too, I bet. Or just on it's own!
Try it and let me know how yours turned out!